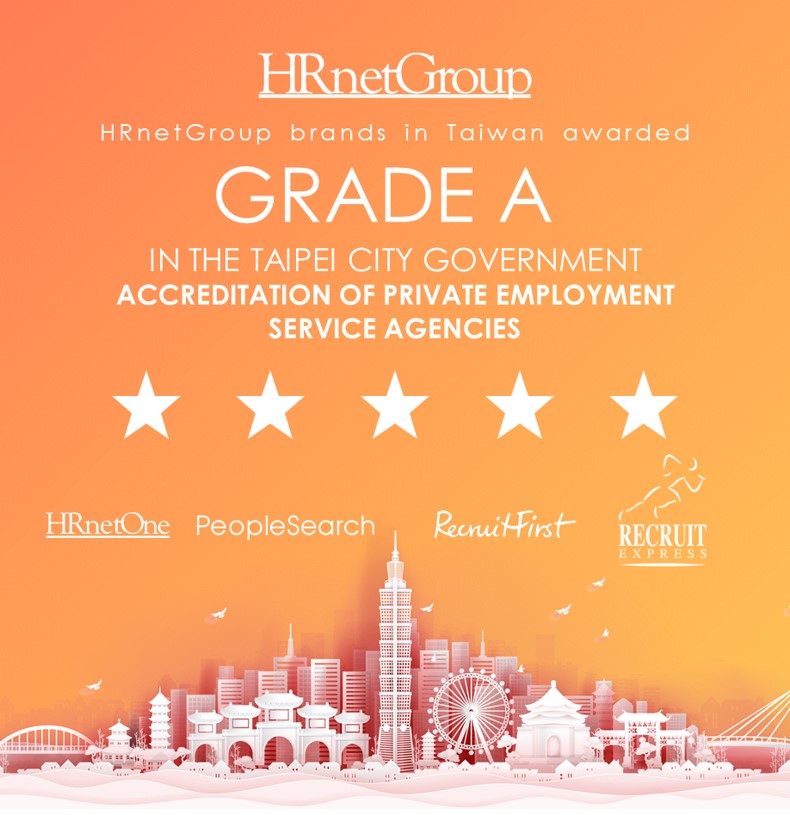 HRnetOne, PeopleSearch, RecruitFirst & Recruit Express Taiwan are proud to have achieved stellar results in the Taipei City Government's Accreditation of Private Employment Service Agencies for 2022. This is the 6th consecutive year in which HRnetOne and PeopleSearch have been awarded Grade A; the 5th consecutive year for Recruit Express and the 3rd consecutive year for our 2019-incorporated RecruitFirst.
The Taipei City Government assessed 126 private employment agencies for 2022, out of which HRnetOne and PeopleSearch were amongst the top scorers of 16 Grade A Senior Executive Search agencies; while Recruit Express and RecruitFirst were amongst the top scorers of 8 Grade A General Recruitment agencies.
The Grade A accreditation is an excellent showcase of the high standards and service quality of the HRnetGroup brands.
We are grateful for this recognition from the Taipei City Government, and also the support of our clients and contractors. This award is representative of the hard work and commitment that every single one of our consultants has put into maintaining high service standards.